Metal vs. Plastic Electrical Enclosures
Contractors and electricians are constantly looking for new ways to make electrical installations faster and more cost-effective. At the same time, stakeholders or property owners want a final project that uses the latest in engineering materials and best industry practices. The end goal is to construct buildings and homes that have a longer life cycle, lower maintenance, and increased aesthetic appeal.
Even behind the walls and tucked away in mechanical-electrical rooms, the opportunity exists to meet these challenges with electrical enclosures that are made with state-of-art materials including fiberglass and polycarbonate. If you are considering the electrical new construction or a massive renovation and electrical upgrade, here are some benefits of plastic electrical enclosures versus metallic.
4 Benefits of plastic electrical enclosures over metal
1. Avoid extra ground connection
That's right – there is no need to attach a ground wire to a polycarbonate or fiberglass electrical enclosure because the material is non-conductive. With metal boxes, there is the issue of devices short-circuiting because a connection becomes loose and a wire touches the metal electrical enclosure. As a matter of fact, fiberglass electrical enclosures also have insulating properties. Fiberglass and other plastic enclosures are also corrosion resistant and stand up well to chemical attack.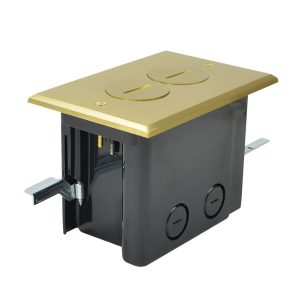 2. Plastic is cheaper than metal
Price versus performance is always a factor in keeping new construction costs under control. Not only is polycarbonate electrical enclosures durable, they are actually one of the most impact-resistant materials of all electrical boxes. So, if it's a rugged or harsh environment, instead of purchasing heavy-duty, metal boxes, you will find equivalent strength, polycarbonate electrical enclosures that are much cheaper.
3. Plastic boxes are lighter and rust-resistant
After just a few years of service, metal electrical enclosures can become rusted, dented, and unattractive in certain environments. Today, many electrical installations are integrated into the property's interior design. Consider theater rooms, bathrooms, and basements that serve double duty for recreation and functional activities. Plastic enclosures are attractive, lightweight, and will resist rusting in damp environments. Plastic electrical enclosures with matching wiring duct can be painted to look like a seamless part of any interior.
4. Installation is faster and easier
And finally, plastic boxes offer a faster and easier installation process, which means contractors can expect more profit with fewer man-hours per project. Plastic enclosures typically come with pre-tapped mounting holes and the material is easier to knock out than metal boxes. Nail-in options are available with the right size nails already in place. If you have installations that call for modifications to electrical boxes to fit your specific application, polycarbonate electrical enclosures are the easiest and fastest to modify in the field.
Visit us at Allied Moulded Products Inc. for a complete line of industrial, commercial, and residential electrical enclosures constructed of fiberglass or polycarbonate materials. Our processes are ISO certified and our electrical enclosures adhere to NEMA standards. From small junction boxes to free-standing electrical enclosures, Allied Moulded is also a global provider of a full range of enclosure accessories and options to meet the needs of your application.